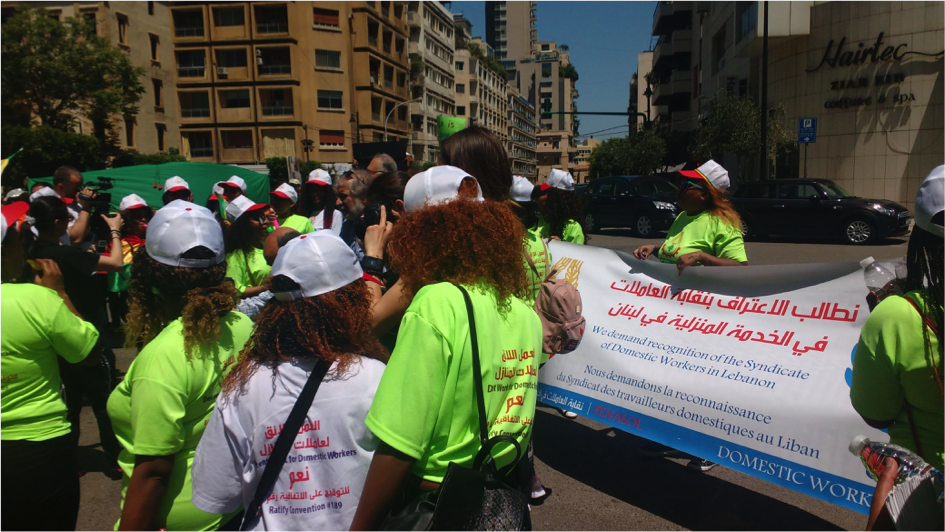 The way housework is organized has changed significantly over time. We have witnessed a proliferation of platforms and private agencies that provide consumers with occasional cleaners or live-in domestic workers. But what are the experiences of these diverse workers and do they share common interests and struggles?
In the context of globalizing neoliberal policies, documenting experiences of labor organizing and autonomous initiatives is more important than ever for emancipatory politics. In global care chains, the logistics around the mobility, placement and regulation of domestic workers are increasingly mediated through private-sector brokers.
In a recently published article, we compare emerging infrastructures for the regulation of domestic work in Belgium and Lebanon and analyze subversive attempts to organize within these infrastructures. Our case studies illustrate how the commodification and logistification of domestic labor pose new challenges for organizing. 
Agents for domestic workers in Lebanon
In Lebanon, the proliferation of private-sector agencies began in the 1990s. Today, these agencies organize the migration, temporary stay, and placement of around 250,000 domestic workers from a variety of Asian and African countries. These migrant workers are then tied to their employers through the practiced sponsorship system and are excluded from labor protections.
But these agencies do not just place live-in domestic workers in the homes of middle- and upper-class families. They also intervene in cases of conflicts, oftentimes exacerbating the extremely harsh and exploitative living and working conditions of migrant domestic workers. While they have been contractually obliged to provide standard contracts to workers, they often charge exorbitant fees and discipline and punish workers attempting to resist their lack of time off and curtailed freedom of movement.
In the neoliberal and clientelist political economy of Lebanon — which has provoked a recent widespread uprising — trade unions have long been weakened and fragmented. These protests show that the role of tackling and undermining the unequal social, political and economic order has been mainly taken up by self-organized or non-governmental groups, many of which are involved in feminist, secular and anti-racist politics. 
Initiatives such as the Anti-Racism Movement have been crucial in how the National Federation of Employee and Workers Union (FENASOL) first attempted and approached the organizing of migrant domestic workers. Their founding of the General Union of Cleaning Workers and Social Care in 2015 was inspired by previous community organizing and supported by the ILO.
Since then, the union for domestic workers as part of the FENASOL has taken up the idea of organizing collective gatherings on Sundays—the only day migrant domestic workers might be able to leave the house—to discuss work-related conflicts, labor rights, and options for organizing.
The union has so far focused on the state's repressive immigration regulations and the agencies' practices, both constituting a basis for abuse and exploitation. The "consumer" responsibility of employers has also been appealed to in a "Fair Home" campaign. While the widespread sexist and racist discourse and treatment of migrant workers needs to be further addressed within the union, the case study demonstrates options for organizing within the challenging sector and infrastructures of domestic work.
Vouchers for housework in Belgium
In Belgium, the introduction of a service voucher system in 2004 presents the most relevant change to the way paid domestic work is organized. It enabled a formalization of waged labor that was hitherto almost exclusively performed informally. With around 150,000 workers, the service voucher system accounts for 4.2% of total employment in Belgium and serves around one million active users in the country.
The vouchers are used by the customers to pay for a clearly defined set of domestic activities: cleaning, ironing, preparing food, doing occasional sewing work, shopping and supervised transport of persons with reduced mobility. The service voucher company (which functions as the formal and legal employer) is responsible for the payment of wages, social security contributions, and for securing health and safety at the workplace.
In reality, the working conditions for domestic workers vary greatly, depending on the private companies through which they are employed. The introduction of the service voucher system has facilitated trade union organizing and actions in the sector. Today, more than half (57%) of all service voucher workers are trade union members.
However, the service voucher system is fairly new and Belgian trade unions cannot rely upon traditional tactics, given the dispersed nature of domestic work. Community-based organizing and social media have become increasingly important. Polish domestic workers, for example, have used their rootedness in the community to recruit new union members, to pass on relevant work-related information, and to discuss their living situations in Belgium. Trade union organizing of domestic workers has been accompanied by a variety of autonomous and individual resistance and coping strategies of the workers. Due to the isolated nature of domestic work, such strategies are of utmost importance.
While the formalization of domestic work has allowed workers to have better access to social rights and has facilitated labor organizing, the union's involvement in the service voucher system is nevertheless controversial. The Belgian state heavily subsidizes private companies to provide domestic services. This is in tune with a neoliberal logic of giving the responsibility of regulation to private actors.
Belgian trade unions have not been vocal about this private-public arrangement given that they consider the regulation of domestic work and the creation of formal jobs in the sector an improvement. Even though they try to improve the working conditions of the workers under the service voucher system, they have to a certain extent complied with the recent neoliberal re-organization and logistification of the sector.
Challenges for labor organizing
Labor market brokers are increasingly important players when it comes to the placement of domestic workers and the regulation of their working conditions. This outsourcing of the organization of reproductive work to private agencies seems to be the common ground for both Belgium and Lebanon. This fits into the neoliberal drive to commodify and subsequently logistify domestic work, which is gendered and racialized on a global scale. For trade unions intent on organizing domestic workers it is clear that reaching out towards communities and addressing the role of intermediating infrastructures is increasingly important. However, tactics of individual resistance continue to play an important role. By exchanging stories of these tactics, workers can take on a more collectivized form, impacting trade union strategies. Thus, unions and autonomous organizations should provide important moments of get-togethers, where these stories are shared.
Read More
Mouna Maaroufi and Neva Löw. "Challenging infrastructures of domestic labor: Implications for labor organizing in Lebanon and Belgium" in Journal of Labor and Society 2019.
Image: by Mouna Maaroufi