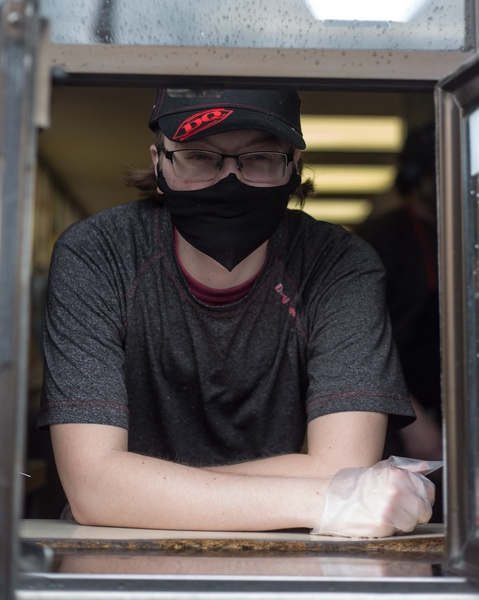 In-person workers have faced intense health and safety issues during the COVID-19 pandemic. Our research examines in-person workers' experiences on the job. Far from the early cries of COVID as the "great equalizer," we find that in-person work during the pandemic has heightened the class, race, and gender inequalities that already permeate the workplace.
We began surveying essential workers in Massachusetts at the start of the pandemic, as part of the COVID-19 Workplace Project run by the Labor Center at the University of Massachusetts. Since July, we expanded the survey to include in-person workers from multiple states. We used paid Facebook advertisements to target in-person workers in specific geographic area. Each survey ran for one week. In total, we have conducted five surveys between April and December 2020, hearing from over 8,500 in-person workers.
Low wage workers—those paid under $20—consistently reported worse pandemic-conditions than higher paid workers. In the spring, we found that low wage workers were two to three times less likely to have adequate protective gear at work, including the ability to social distance and access employer provided masks and sanitizer. These workers were also far less likely to have paid sick leave and health insurance.
Given this lack of support, it makes sense that low wage workers were much less likely to feel safe at work. While 44% of high-wage workers reported not feeling safe, this percentage increased by 10 points to 54% for low wage workers. These workers also had much higher rates of food, housing and childcare insecurity.
Workers of color, particularly Black and Latino workers, also experienced greater hardships. We find that even among low wage workers, Black and Latino workers were far more likely to face safety concerns on the job than their white counterparts. Specifically we found that 70% of Black workers and 78% of Latino workers reported that they did not feel safe on the job, compared with 58% of white people.
This pattern extended to insecurities off the job, where Latino and Black essential workers were over 10% more likely to report insecurity with food, child care, and housing when compared with white essential workers. These insecurities were even higher among women workers of color. These findings point to distinct ways in which the COVID-19 pandemic has collided with Black workers' struggle for economic inequality, amplifying existing patterns of labor market inequality.
In addition to safety concerns, many workers pointed to other ways that the pandemic created stress. Across all surveys, the majority of workers reported that their work stress had increased with the pandemic. Many experienced an increase in work intensity or speed-ups, due to staff shortages and COVID guidelines. For example, a white person working as a low wage stocker explains:
…the only way to take in the truck or stock as quickly as we are required is for us to completely ignore social distancing and the aisle one ways ourselves. We need our work-load decreased in response to social distancing guidelines so that we can actually follow them.
A key area of stress comes from enforcing masks and social distancing among co-workers and customers. Even in our earliest survey (April 2020), workers were reporting issues with unruly and disrespectful customers. In the July survey, roughly half (49%) of workers who had asked a customer or co-worker to comply with COVID policies indicated that there were issues with compliance, responding that this directive was only sometimes or rarely followed. These numbers were far worse for low wage retail workers, many of whom expressed deep frustration with their employers' lack of enforcement and hazard pay. A supermarket worker in Oregon explains:
They have sent out memos and we have signs and commercials that play, saying customers and employees are required to wear masks, but it's not enforced whatsoever. They gave us hazard pay for 4-5 months then cut us off, while giving the top ceo a bonus… What would make things better? Enforcement of face coverings and social distancing, and some damn hazard pay. We make them millions if not more a year. It's the least they could do.
Many workers expressed the stress of verbal and physical violence. A 46 year old Asian man working in a restaurant casino described the very real dangers workers face when confronting customers:
This morning at 5am we had four drunk people in the restaurant and were not wearing their masks. I went over to them and asked them to please put on your masks when you aren't eating or drinking. They got mad at me and told me to f-off and then one of the ladies got up and spit on me and asked to talk to the manager. When I told them that I was the manager one of the guys got up and started to pull his pants down when I stopped him. When security showed up to take care of the problem they asked the guy what he was going to do. He said that he was going to piss on me and the rules that you are enforcing on us. It is against the law — we have rights.
The stress over enforcing mask policies builds on the burdens of being low paid and the health risks of work during a pandemic. A 33 year old hardware store worker in Massachusetts describes her situation:
When I ask customers to wear a mask, as they are required to do, I am often met with animosity and anger. They tell me I'm infringing on their rights. I've had abusive phone calls from people saying our policy goes against the constitution. And we're not being paid anything extra or being treated with any care by our employers. We're considered an essential business and we're being paid like we're high school kids living at home and this money is for fun. My life is in danger and I'm being paid like I'm getting an allowance. I cry before and after work and then sit in a deep depression wondering what I can do to get out of this hell.
Some workers reported speaking up about safety, though managements' responses to safety requests were mixed at best. A 26 year old white man working as a cashier at a gas station explains that he spoke with his boss about not allowing unmasked customers. He says that his employer made no changes and instead :
"threatened to cut my hours down to a few a week, unless I waited on unmasked customers."
In sum, our research finds that the pandemic— and more specifically the management of the pandemic— has worsened working conditions for many in-person workers. In many ways, these problems are disproportionately placed upon low wage workers. We argue that major interventions by both the government and employers must be made to protect and support workers, among them, improved enforcement of federal and state health and safety guidelines, hazard pay, universal paid sick days, and health insurance.
Read more
Clare Hammonds and Jasmine Kerrissey. "We are not heroes because it is not a choice: A Survey of Essential Workers' Safety and Security During COVID-19." University of Massachusetts Labor Center Working Paper Series 2020.
Clare Hammonds, Jasmine Kerrissey and Donald Tomaskovic-Devy. "Stressed, Unsafe, and Insecure: Essential Workers Need A New, New Deal." University of Massachusetts Center for Employment Equity and Labor Center 2020.
Image: Paul Sableman via flickr (CC BY 2.0)